Liesl, 7N

I am not happy. I was finally able to wear the gorgeous fuschia Pliner's I bought a month ago and they killed my feet. They are, dare I say it? too small. I knew that stretching spray wouldn't work since they are silk, but I headed over to Deno's, my favorite shoe repair store, anyway. The instructions for the spray are for leather or reptile, not man made fabrics. Oh! wait! the shoes are silk! that's natural, right? I mean, it comes from worms, which are so natural they are icky. Dare I try it? What do you think, fabulosas?

Anyway... I found a fabulous product at Deno's: Killer Kushionz by Foot Petals. These incredible sticky cushions are supposed to keep your feet from sliding in their shoes. Can you imagine? We all know what it's like to slip around inside our shoes to the extent that we look like we're walking on ice on a perfectly hot day. While it might be amusing to watch, it is not amusing to experience. These pads come in all different sizes and can be added to any kind of shoe. You have to love a company that claims "one size fits fabulously." Oh! how cool are these Strappy Strips for those straps that won't stop digging into your perfectly pedicured pes? Yes, it's a word.

This product exploration, while fun, has me wondering how it is that I didn't know about these products before now. I feel a tiny bit betrayed by my hyper extended shoe sense. I suppose I can't know everything. Wait, this is me we're talking about; of course I can and do know everything. Now.

Since we've established that I know everything now, why not just go ahead and put me in charge of the world? It would be infinitely prettier.

Today's favorite shoe: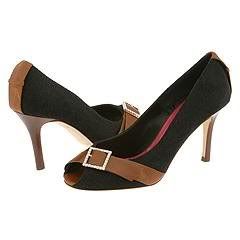 Kate Spade "Gerry"