Liesl, 7N

I now formally kick Diablo Cody out of the fabulosa universe. She is dead to me. To read why, here is an excerpt from her latest blog post on Myspace:

"I'm actually really pissed about this, now that I think about it. They're using me to publicize their stupid shoes and NOBODY ASKED ME. I would never consent to a lame publicity stunt at a time when I already want to hide. I'm sorry if I sound like a party-pooper, but Jeebus."

Party pooper? She wants to hide? I'm sorry, did someone force her to write Juno and then force her to sell it to a producer or studio to be made into a movie? Is someone forcing her to go to the show and sit there in all of her tacky faux leopard print glory? No? then stop with the faux Garbo shit.

Lame publicity stunt? Because, you know, she's such a private attention ho-less person. There's nothing wrong with asking for the attention of every pair of eyes in the room by taking your clothes off, but let's not kid ourselves that strippers are the hide away in the dark types. I suspect Diablo Cody just thought she would no longer be considered edgey if she wore the Weitzman shoes and therefore garner attention for something other than her body or wit.

We are, of course, talking about the Stuart Weitzman "Cinderella" shoes. I am not a huge fan of this year's offering, but they are Weitzmans and are therefore special. Diablo Cody should thank her lucky stars for having the opportunity to be in the same room with Stuart Weitzman, much less wear his shoes. She could only hope to touch his greatness with the very tip of her pinky toe.

As expected, Stuart Weitzman was class itself when interviewed by the AP:

"Weitzman later said he made the cost of the metallic beige T-strap high heels -- more than $2.5 million, including parts that were not used in the final pair -- clear to Cody when he met with her. He blames the stripper-turned-screenwriter's behind-the-scenes team for not fully communicating the value of the shoes to Cody.

"I'm just embarrassed that she wrote what she wrote," he told the AP during a telephone interview Saturday night.

Even so, the designer says he wouldn't change his decision to give the ultra-expensive heels to Cody."

That, Diablo Cody, is what class looks like. You can't buy it, you can't steal it, you can't even pretend to have it. It doesn't come with birth or status or accomplishment. Ex-strippers can have it, but not if they act like whiney babies with entitlement issues.

I don't care who you are or what you've done, Stuart Weitzman deserves more respect than a bitchy rant on myspace.

Today's favorite shoe: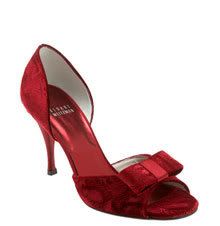 Stuart Weitzman "Por Favor"