Liesl, 7N

MFP and I met a friend at Northpark again last night. We parked by Macy's so we entered the mall through the store and as we entered the store I inhaled deeply. I couldn't help but think: I love the smell of Macy's in the evening. I do love the way department stores smell, as well as shoe stores. I am most attached to my sense of smell because I tend to really love certain smells. Is it weird that I pick up and smell new shoes?

We met our friend Jen and her very smart son Braden. Braden is the one that yells "NO CROCS!" and tries to run away from them. Braden was allowed to pick out clothes for his build a bear and he went straight for the fabulous shoes; unfortunately, as we were walking around the mall he lost one of the shoes. What were we to do? We looked for it but couldn't find it; we did the only thing smart shoe people can do: we bought another pair. Whew, that was a close one!

Even teddy bears need fabulous shoes.

Today's favorite shoe: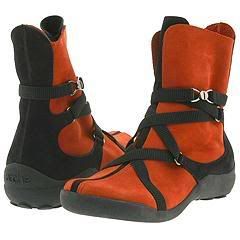 Arche "Grigou"