Liesl, 7N

As you all know, we just moved into a new home. I knew this home was the perfect home for us when we walked in the first time we saw it. I had no idea that we were buying the house from a visionary, an angel and a true fabulosa.

The couple who owned our home before us are a bit younger than us, but not by much. We liked them as soon as we met them and I knew I would like her after seeing her shoes when we toured the house. When we took possession of the house and walked around the empty rooms we were amazed at how well the home had been taken care of and how clean it was; the couple who lived here had cleaned it after they moved out. How nice is that? But wait, there is more; there is a reason I am calling the lady of the house a visionary, an angel, a true fabulosa.

She left the shoe racks in the closet. This young woman understood on a basic level the most important and sacred part of the house and she left me the gift of that sacredness in all its white metal goodness. Not only that, she left two shoe racks. I think she may just be my new best friend, my friend in shoes, my friend who just gets me. She had me at shoes.

I love my husband but Christian Louboutin completes me.

Today's favorite shoe: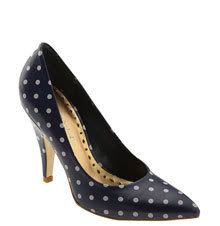 BCBGirls "Popiul"