Liesl, 7N

I had dinner last night with my mom and her friend Chantal. Chantal is French and always looks fabulous because she appreciates fashion as all of us should. Anyway, we were talking about her brother in law, the wonderful Carlos Falchi. She told me that he had designed shoes years ago but stopped because they were more trouble than they were worth. I lost my appetite at that thought.

Making shoes is expensive, I realize that. There is a good reason behind the lack of narrow and wide and extra large and extra small shoes: the cost is not defrayed by the consumer. This is why I am personally endorsing a product that has saved my feet more than once: Shoe Stretcher Spray. I tend to buy shoes a size or half a size smaller and stretch them to fit my dainty feet. The only problem is when I am out of the spray and just received my new Kenneth Cole boots and can't wait to wear them. I had to take them off at Bed, Bath and Beyond the other day because I couldn't feel my feet. My life is so hard.

Still, wouldn't it be wonderful to go into Neiman's or Nordstrom's and be able to put on a pair of couture heels and have them fit perfectly? I wonder who the people are who can do such a thing. Who are these "average" sized women? Or, average foot sized, anyway. I really think someone needs to put up the capital so that Suz and I can start a shoe line. Fabulous shoes for all foot types. Can you imagine? Oh, we would rule the world because you can do anything if your feet are in fabulous shoes and they fit correctly.

The Equal Rights Movement had it all wrong; if they had only focused on shoes women would be running the world by now.

Today's favorite shoe: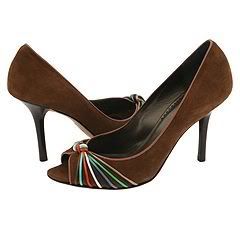 Isabella Fiore "Marina"