Liesl, 7N

It will shortly be 2007, a time of renewal, of promise, of rebirth and throwing away of the old. What better opportunity is there to renounce the one thing that we could have all done without in 2006? CROCS. It is time, ladies, to say buhbye to the monstrosities of foam.

You've had your fun, you've dressed up your shoes with charms. You've worn the foam ickies everywhere from the opera to the gym. Now, let go. It's ok, you can do it. There is no shame in admitting that you wore them at one time; forgiveness is a beautiful thing. I will forgive you; Suz will forgive you. Throw them away. Now.

Don't you feel better? Yes, I knew you would.

Today's favorite shoe: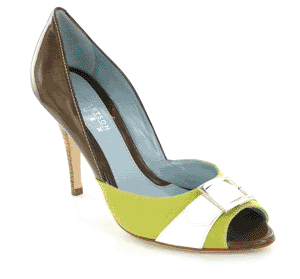 Lambertson Truex "Carlota"