Liesl, 7N

This weekend is the weekend of hats. You know what I'm talking about! it's Kentucky Derby weekend. I love seeing the coverage of the ladies in their fabulous hats every year at the races; they are always so colorful, bodacious, glamorous, and good old fashioned fun. All of the coverage of the hats got me to thinking: why isn't there an event that is all about shoes?

I've decided to designate an event as the event where women wear fabulous shoes and we all take notice. Not that I think we shouldn't do that everyday, but you know what I mean. I've thought long and hard about the perfect event; I considered opening night at the Met, opening night of fashion week, Burning Man, and the Sag awards. None of those events truly could do justice to shoes, though. I finally decided that the perfect day for a national shoe event is April 26th.

Follow along. Did you know that there is a patron saint of shoemakers? There is! saint Crispin. Now, as some of you may know I am a big fan of Shakespeare. Some people say that you can find whatever you need in life in the Bible; I feel that is equally or more true of Shakespeare. If you've ever read Henry V then you know where I am going with this:

We few, we happy few, we band of brothers;
For he to-day that sheds his blood with me
Shall be my brother; be he ne'er so vile,
This day shall gentle his condition:
And gentlemen in England now a-bed
Shall think themselves accursed they were not here,
And hold their manhoods cheap whiles any speaks
That fought with us upon Saint Crispin's day.

I think we can all agree that this speech is a fine example of what it is to be human, to be good and to recognize all that is dear in life. Shakespeare (Edward de Vere, ahem!) recognized all of those things and made them real and fine in words. Who better to celebrate in our celebration of shoes? The master of fine art and the ultimate creation in art!

I propose an international Shakespeare/Shoe event every April 26th; Shakespeare will be performed in fabulous shoes and the women in the audience will attend in fabulous shoes. Oh, I think I just had a small stroke at the thought of it! Think of it: all that is good in life in one place! Shoes, art, Shakespeare, me. Oh, it is too delicious to contemplate.

All that glistens may not be gold but all that is fabulous belongs to shoes.

Today's favorite shoe: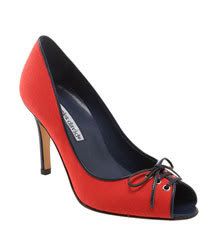 Charles David "Forecast"