Liesl, 7N

My day was utterly ruined first thing this morning. I got dressed and went looking for the shoes I wanted to wear; trouble is, I couldn't find them anywhere. I still can't find them. I ended up settling for some ballet flats but they didn't feel right after I had decided to wear my fabulous black slides. As I was walking across campus and feeling not quite right and a little grumpy I realized that it was my bad shoe luck this morning that ruined the rest of my day.

Some people might consider that silly but shoes are our daily foundation. We use them to do everything else during our day so having a bad shoe day is far worse than having a bad hair day or an I got dressed in the dark, clearly, day. Your shoes hold you up; they are the wind beneath your pencil skirt (unless you're Suz); they are the rock and the island and all the fish in the sea. A bad shoe day makes for a very bad day, indeed.

I'll find my shoes tomorrow; after all, tomorrow is another day.

Today's favorite shoe: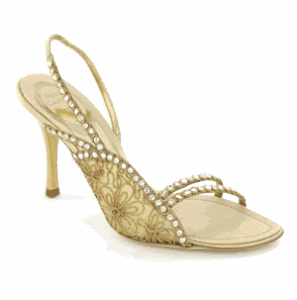 Rene Caovilla "C3917A"