Liesl, 7N

I was listening to one of my favorite shows on NPR yesterday and they were interviewing the director of the Meadows Museum here in Dallas. They are having a Balenciaga exhibit (more on that in another post) at the moment and they were talking about the need to make the mannequins and the dresses have "movement." When I was a teenager and taking pictures for a portfolio, one of the things I heard most often was that my pictures implied movement and that was a good thing. Now, this topic is not just a brag on how gorgeous I used to be; I want to talk about when we take this movement thing too far.

For your consideration, there is this picture. I'm a fan of Spanks; I was raised to never leave the house without lycra on my thighs, but come on! That picture is just silly. Who poses like that? And how weird is it that it a picture of 4 disembodied legs? Creepy! At least the shoes are fabulous.

The moral of the story? Movement is only good when it implies natural movement or pretty movement; not weird tippy toe movement by leg monsters from Mars. And what does this have to do with shoes? As I said, leaving the house without lycra on your thighs is only for supermodels.

I'm going to tippy toe out the door with my thighs encased in lycra, now.

Today's favorite shoe: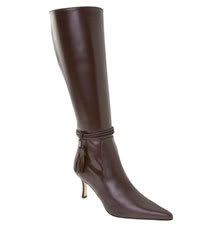 Faconnable "Charlize"