Liesl, 7N

You have to love a woman of action. You have to love a woman of action who has her priorities straight even more. Did you know that Dr. Ruth Westheimer was an Israeli sniper? It's true! The wee sex goddess sniped as a teenager and she always kept her priorities intact. In talking about an incident on her 20th birthday in which her legs were almost blown off from a cannon ball she had this to say:

"The strangest thing was that all I could think about was whether there might be some blood on the brand-new shoes I had just gotten for my birthday, and amazingly there wasn't even a drop on them, which was all I cared about in some kind of strange denial." http://www.snopes.com/medical/doctor/drruth.asp

Now, I don't think she was in denial; I think she had her wits about her and was displaying her famous composure in the face of shocking and stimulating situations. Our little Dr. assessed the situation and saw that her precious shoes were safe and she knew that she was going to be OK. See? shoes can even be the beacon of all that is right in our lives in the face of great danger. They are, quite simply, multifaceted pieces of fabulous.

On a not entirely unrelated note: Suz and I were just IMing and she had talked herself out of these shoes. I managed to talk her back into them and now she is the proud owner of a gorgeous pair of silver Linea Paolo flats. What are friends for if not to lead us down the path of fabulousness?

Have shoes, will travel.

Today's favorite shoe: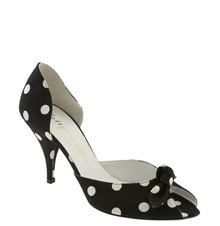 Bettye Muller "Linley"