Liesl, 7N

Do shoes really ever go out of fashion? I've addressed this before in the timeless post about shoes, but it has taken on new meaning lately when I've posted shoes that people really love and want to buy but can't because they are no longer available. I realize that it would be impractical to make every pretty shoe you've ever designed, but why do they last such a short time?

I have chosen a pair of shoes from Zappos for this week's favorite shoe because I know that if I don't use it, it will disappear. Pretty shoes should be available for longer, I think. It's not like they spoil with time or we'll look back on them with shame in 3 months. Pretty shoes will remain pretty and we all deserve the chance to own the ones we fall in love with.

Expiration dates are for food, not shoes.

Today's favorite shoe: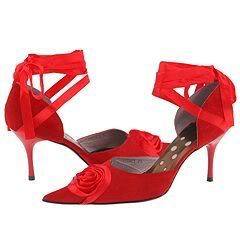 N.Y.L.A. "Courtney"