Liesl, 7N

We moved this week into a lovely new home that suits us so perfectly I am starting to believe I imagined it and made it real. Now, if I could just do the same with my own shoe line. Anyway, as we removed the guest bed from the guest bedroom we discovered an under the bed box we had forgotten we had. After I stopped freaking out about one more box that needed to be gone through and moved I opened it; it revealed something sublime. I think we all have this object of sublimity, either packed away or in our closets, perhaps not in our main closet, but somewhere out of the way, like an old memory you fleetingly grasp when a color reminds you of something.

I am talking about a pair of special shoes you wore only on the most special of occasions. The shoes I found are just those shoes for me. They are a pearly off white peau de soie with a small bow on the top of the vamp. I wore these shoes to two proms and to my debutante ball. They are so special that I almost can't find the words to describe them or how they made me feel to wear them. After I unpacked them and oohed and aahed over them, I put them on and wore them around the house, showing MFP just how important they were and are. I delicately walked around the boxes explaining all the while that sometimes there are shoes that transcend all we know of utility and money and the ground we walk on; some shoes allow us to float through our days or night.

When I was a teenager going to proms and later to my debutante ball these shoes took me through those times with a feeling of specialness, sublimity, and beauty. I have saved these shoes all these years, wrapped in tissue and preserved to remind me of a time when I wore the most special shoes I have ever known. I hope everyone else has a pair of shoes that they can put on and remember a time of excitement, newness and special occasions. Every day can't be a special occasion and it's nice to have tangible reminders of times when we felt beautiful and loved and the center of the universe. If you don't have a pair of shoes like that, get them. Wear them somewhere special and take someone special with you. Then, wrap them in tissue and put them away to be discovered some other time when you most need a reminder that there was, at least once, something ultimately special on your feet.

Special is as special does and there will never be anything special about dayglo shoes made of foam.

Today's favorite shoe: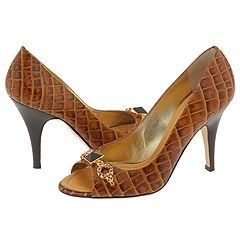 Guiseppe Zanotti "I6325"