Liesl, 7N

As Suz, MFP and I were walking down Rush street in Chicago on Monday Suz and I spied something shining in the distance. It looked like an ethereal beacon akin to what was described in Arthurian legend. Was it a grail of some sort? Indeed it was. The glow in the sky, the otherworldly shimmer, the unmistakable pull toward it, it all signified one thing: Nordstrom's shoe department.

We were walking through the rain to have dinner here because we wanted to have "steaks as big as our heads." (Suz) Imagine our delight when we spotted Norstrom's almost right across the street from the restaurant. Imagine our dismay when we realized we did not have time for both our reservation and a quick jaunt into the shoe department. This is how you will now know what magnanimous people we truly are: we opted for food because we knew MFP was hungry. Yes, we should be sainted, clearly. We put the needs of the man ahead of our own needs and we sucked it up for filets and twice baked potatoes. Oh, and wine.

Alas, Suz is back in New York and I am back in Dallas. Our brief idle in Chicago was just that, all too brief. We saw some fabulous shoes and were able to taunt people who love Crocs with some fabulous t-shirts but we were not able to go shopping together. We will live another day, fight another fight, just to be able to someday buy shoes together as god intended.

Chicago is for shoe lovers.

Today's favorite shoe: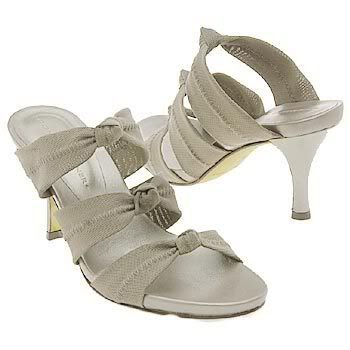 Donald J. Pliner "Anu"