Liesl, 7N

I have a shoe conundrum. I have written about the fact that I believe it is tacky to have matching purses and shoes; where do we draw the line, though? Here's the problem: I was wearing this sandal yesterday with a black skirt and black top. When I was choosing my jewelry I decided on a leather and silver bracelet and a white shell and silver necklace. With me so far? good. The question is, if you have bling on your shoes, should it match your jewelry?

I hate yellow gold and silver together; I think it looks cheap for some reason. I do make an exception for my ever present, never take it off, medical ID bracelet. But, that isn't jewelry. Anyway, the shoes I was wearing have brown jewel tones that absolutely did not match my leather and silver jewelry; should it have? I honestly do not know.

I suppose the real question is: are shoes separate from the rest of your outfit? No, not really. But they do provide an avenue to bring in something unexpected to your look. Unless that unexpected thing is in the form of Crocs or white pumps. That's a bad unexpected instead of a dash of fabulous. In the end, I think my jewelry should have been of the same kind as the bling on my shoes. Live and learn, right?

I think I may need to experiment with this idea some more. Oh! that means I need new shoes. Dang!

Today's favorite shoe: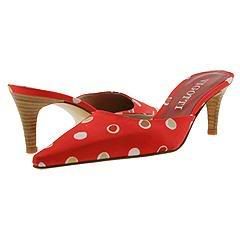 Vigotti "Dixie"