Liesl, 7N

I had another shoe dream last night. The houses of Chanel and Yves Saint Laurent had teamed up to make a slide with their logos all over it and I was positively euphoric because it was affordable and I was going to be able to buy it. I remember what the shoe looked like and so I must only assume that aliens kidnapped me last night and implanted the idea that such an ugly shoe would be something I would want. There is no other explanation.

As I was eating lunch at a very fashionable restaurant yesterday I noticed a woman next to me in evening shoes, complete with spangly snaps. The problem was, she was wearing Capri pants and a casual top. Pretty shoes are only pretty when they are worn appropriately, ladies. The combination of lime green strappies with bling and Capri pants is just horrifying. We were in such close quarters in that restaurant that it was all I could do to eat my fabulous chicken salad lunch. Green beans in chicken salad? yes, please. I ended up having to turn bodily away from that table so that I could look at the kitchen door, my husband, my mom, anything other than the wrong combination eating a different version of chicken salad next to me.

We like our chicken salad and strappies in Dallas.

Today's Favorite Shoe: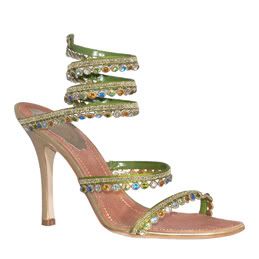 Rene Caovilla "Edna"