Liesl, 7N

I am sorry I've been neglecting the blog again. I promise to be more diligent in my shoe commentary duties. I know you lovely people can't do without me and my amazingly wise words.

I would like to point out that there are certain things that you should not do, even if someone does step on your shoes. Shooting someone in the back is just one of those things. I realize that people should be extremely careful when they're around fabulous shoes, but we must be moderate in our responses.

I think the man who had his shoes stepped on should have responded in this way: "Pardon me, I believe you have just trod on my shoes. Please be more careful as they are fabulous and worth more than your life. Just kidding! ha ha! I won't shoot you in the back! ha ha!"

I realize that shoes trump most things, but you must remember that if you do something that will result in your imprisonment, you will have to wear Croc-like shoes. Is it worth it? No, no, not at all. Please do remember your priorities, fabulosas.

I used to know an opera singer who shot himself in the foot to avoid service in Vietnam. I don't know which is worse, his cowardice or his willingness to sacrifice fabulous shoe opportunities for his life.

Today's favorite shoe: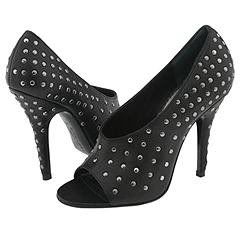 Givenchy "574920"