Shoes are life!

Suz and I created this blog to indulge in our love for shoes and to share that love with all of the ugly shoe wearers around the world. It is time to just say no to function over form!

My name is Liesl and I have loved shoes since I was a child. I well remember the smell of patent leather Mary Janes with crisp white socks as a child. Every year my mother would take me to the shoe store to buy a new pair and I would look forward to that day for weeks beforehand. I still love Mary Janes... Manolo Mary Janes!

I have indulged in my passion for shoes for probably 33 years, now. During the 80s and my teenage years it was all about the low heeled pump and the L.L. Bean Duck Boots. In the early 90s and my twenties, it was all about classic high heeled pumps. By the time I moved to L.A. in the mid-90s it was all about Steve Madden open toed mules. I had three pair and kept them until our dogs chewed them up a month ago. I still have one pair left.

Now? I just love them all. Except Crocs. And Birks.

Today's Favorite Shoe: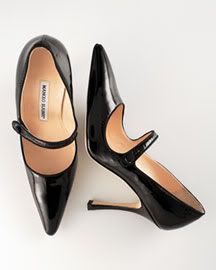 Manolo Blahnik Mary Janes.